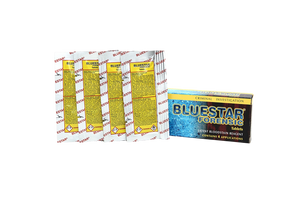 BLUESTAR® Forensic Tablets 4 applications
Product code: BL-FOR-TAB4
Consists of 1 to 4 applications; this compact and lightweight product provides the tablets for making 4 oz. - 16 oz. of reagent. 
Kit Contents
4 pairs of sealed foil tablets
Each pair holds one beige tablet (reagent) and one white tablet (catalyst)
How to prepare the Working Solution
Dissolve a pair of tablets in 4 oz. of distilled water in a bottle equipped with fine mist atomizer.
Storage Temperature Limits
Store Bluestar® Forensic products in a dry environment with temperatures ranging 39° - 86°
DOCUMENTATION
---
We Also Recommend