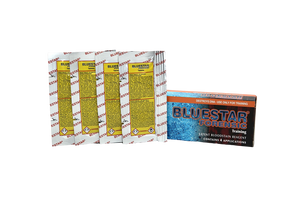 BLUESTAR® Forensic "TRAINING" 4 Applications
Tablets 4 - applications. This
 version of Bluestar® Forensic is intended for training purposes only. Bluestar® Forensic Training Tablets are an affordable option to reduce training costs.
Bluestar® Forensic TRAINING WILL DESTROY DNA
Kit contents
4 pairs of tablets for 4 applications

Foil packet contains 1 beige tablet (reagent) and 1 white tablet (catalyst)
How to prepare working solution
Dissolve a pair of tablets from foil packet in 4 oz. of distilled water in a bottle equipped with a fine mist atomizer. Or use the 4 pairs at once to make 16 oz.

 
DOCUMENTATION
---
We Also Recommend