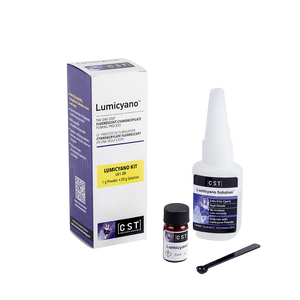 Lumicyano powder (1g) + Solution (20g)
Product code : LK1-20
Fuming & fluorescent dye-staining in one step

Level 3 Ridge details

DNA sampling compatible

Operates in all fuming chambers

Can be used directly at crime scene
Lumicyano allows, with a one-step process, the revelation of fingerprints in standard fuming chambers. It removes the post-processing stage of dyeing or dusting with powder : fingerprints are immediately fluorescent!
Lumicyano has been especially designed to show fingerprints with a stronger brightness and to develop high level detailed fingerprints under optimal conditions. There is also a minimized risk to over glueing ; this provides better results than classical cyanoacrylate, post-treatment dyes or powders. It can be used in all fuming chambers operating under standard fuming conditions (Hygrometry : 80% - Hotplate : 250°F/130°C)
The Lumicyano technology is fully compatible with DNA analysis. It is therefore possible to perform a double identification (papillary then DNA identifications) on a single print.
One Lumicyano kit LK1-20 (including a 1 gm Lumicyano Powder bottle) allows:
7 cycles in a 650 liter (23 cub.ft) fuming chamber
25 cycles in a 170 liter (6 cub.ft) fuming chamber
KIT CONTENTS :
1 gm Lumicyano Powder bottle
20 g solution
1 scoop (40 mg)
HOW TO PREPARE THE KIT :
Place the proper amount of Lumicyano Powder into a new foil dish then dispatch the powder evenly to avoid clustering
Add directly "Lumicyano Solution" into the foil dish where you put the powder in step 1
Gently move the liquid around the foil dish until you homogenize the mixture and it becomes an even mixed it dissolves the Lumicyano Powder instantly!
Place the prepared foil dish with its mixture onto the hotplate in a standard fuming chamber and heat it at 120°C/250°F  with 80% humidity level.
HOW TO USE (VIDEO) :
DOCUMENTATION :
Safety Data Sheet (Lumicyano Solution)
Safety Data Sheet (Lumicyano Powder)
Frequently Asked Questions (Lumicyano)
---
We Also Recommend